VI Online Magazine 2017
Click on the magazine below to view the issue in an online format.
For VI Magazines from previous years, view either 2012 VI Online Magazine, 2011 VI Online Magazine, 2010 VI Online Magazine, 2009 VI Online Magazine or 2008 VI Online Magazine..


---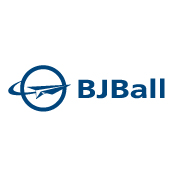 VI Issue #4 July / August 2017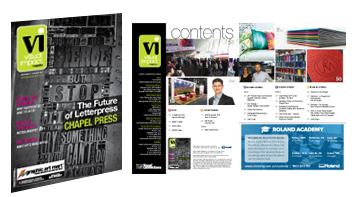 Cover Stories
NZSDA Awards 2017 Best of the Best
Full Power – PacPrint 2017
Mike Boyle Rocks!
Feature Stories
25+ Pozitive Signs and Graphics Supplies Reaches a Major Milestone
Bon Voyage – Steven Badger, Océ Australia
QuarkXPress 2017 Looks to Regain Top Spot
Yesterday, Today and Tomorrow Chapel Press
VI Issue #3 May / June 2017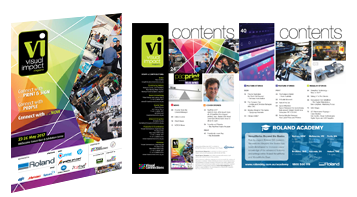 Cover Stories
PacPrint 2017 Well, it's here.
Scientia est Potentia – The PacPrint Forum Program
Everybody Loves Ray – Ray Besserdin
Feature Stories
They're Australian, But Don't Tell Anyone! – Aeronaut Automation
The Dynamic Duo – Jordan and Christian Buhagiar, Alfex CNC
Staying Ahead of The Game – Signgroup Australia
Cheque Mate?
VI Issue #2 April / March 2017
Cover Stories
Family Ties – The Rise and Rise of Starleaton
Finding A Creative Spark – Creative Laser
More For Moore – Simon Moore Heads To Europe
Feature Stories
Epson Hosts Third Annual Digital Couture Project Fashion + Technology Event
Show Me The Money!
Tips For Trade Show Displays
Flex To Impress – iCFX Global