A full house of industry professionals enjoyed an inside look at the advantages of digitally printed label technology and support systems from Konica Minolta for short to medium run jobs.

Held at the Printing Education Centre at Victoria's Holmesglen Tafe, presenters from Konica Minolta, in conjunction with software and systems providers XMPie and PrintIQ, talked about the advantages of the AccurioLabel 190 label press, online ordering and data management systems and integrated production software. Guests also got a look at the iTech CENTRA HS finishing system.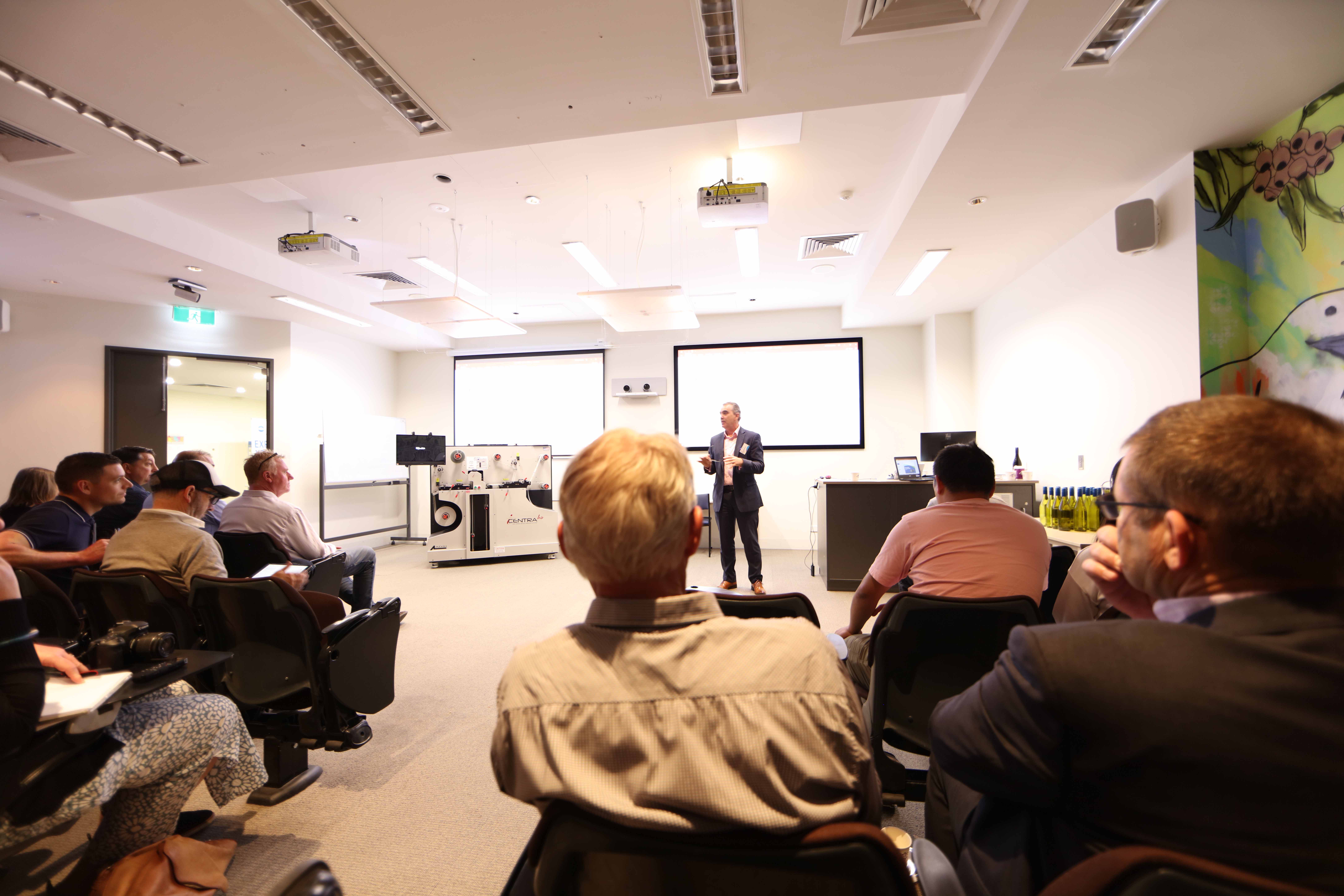 A series of five speakers gave presentations in their area of speciality, taking guests on the journey from the moment an order is placed online, to the point at which the final product receives specialist finishing.

The first presenter was Enda Kavanaugh, Asia Pacific Sales Manager, XMPIE. Enda talked about the ability of variable data to increase the value of a label by enhancing the emotional connection to the final recipient. Campaigns such as personalised Vegemite and Nutella labels demonstrated the success by which variable data label printing can bolster the perceived value of the final product, something that customers will willingly pay for.

"Personalised packaging is worth 40 per cent more," said Enda. "We've seen this happen with the Vegemite and Nutella campaigns. If a jar of Nutella is $6, I can add a personalised label to it and can sell it for $12. There is significant emotional content that can be created by the label if you make it available to the person."

Next to present was Adrian Fleming, Global Sales Director, PrintIQ. Adrian detailed the PrintIQ process showing which print device will give the best profit margin for a specific job (including all variables), and the benefits this delivers for estimation and quotes, as well as streamlining the whole production process.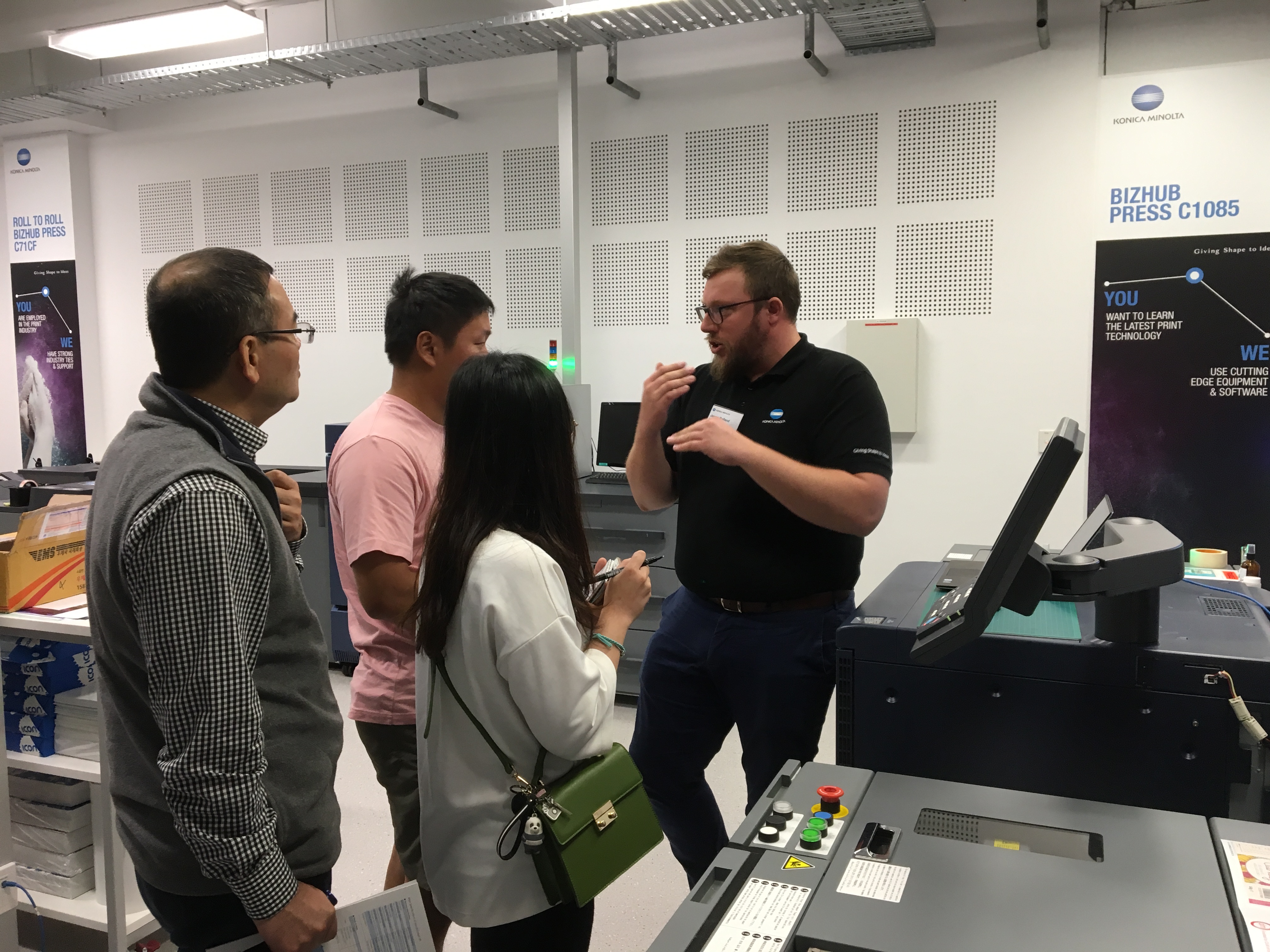 David Cascarino, National Manager Industrial Print, Konica Minolta, presented the benefits of the AccurioLabel 190 for short and medium run variable digital label printing. Released in 2016 at Konica Minolta has sold 300 units worldwide with 10 currently in operation in Australia.

"The AccurioLabel 190 has certainly found a niche in the marketplace because of the wide range of applications and industries that it caters for," said David. "We are talking about labels for the liquor and beverage industries, industrial products and medical labels because we have got FDA compliance."

"The AccurioLabel 190 is 1200 x 1200dpi capable, meaning image quality is equal to our sheetfed presses. "The printer supports a 330mm web at a print rate of 18.8mpm, and due to the use of dry toner, no pre-coating is required giving it the ability to print on a wide range of stocks."

The Konica Minolta AccurioLabel 190 is indeed an impressive machine. The capabilities and growing demand for variable data printing is well documented, so too the growing trend of shorter and medium-run label production. With its advanced capabilities it is easy to see why the AccurioLabel 190 is in demand.

Following David was Joseph Brown, Sales Executive, QLM, who spoke to attendees about the iTech CENTRA HS label finishing system. The machine is a high-speed, roll-to-roll digital converting system that allows users to laminate, die cut, strip and slit custom labels in one production pass. Joseph detailed the advantages of the system and how, with minimal training, and operator could be very proficient with this easy to use technology.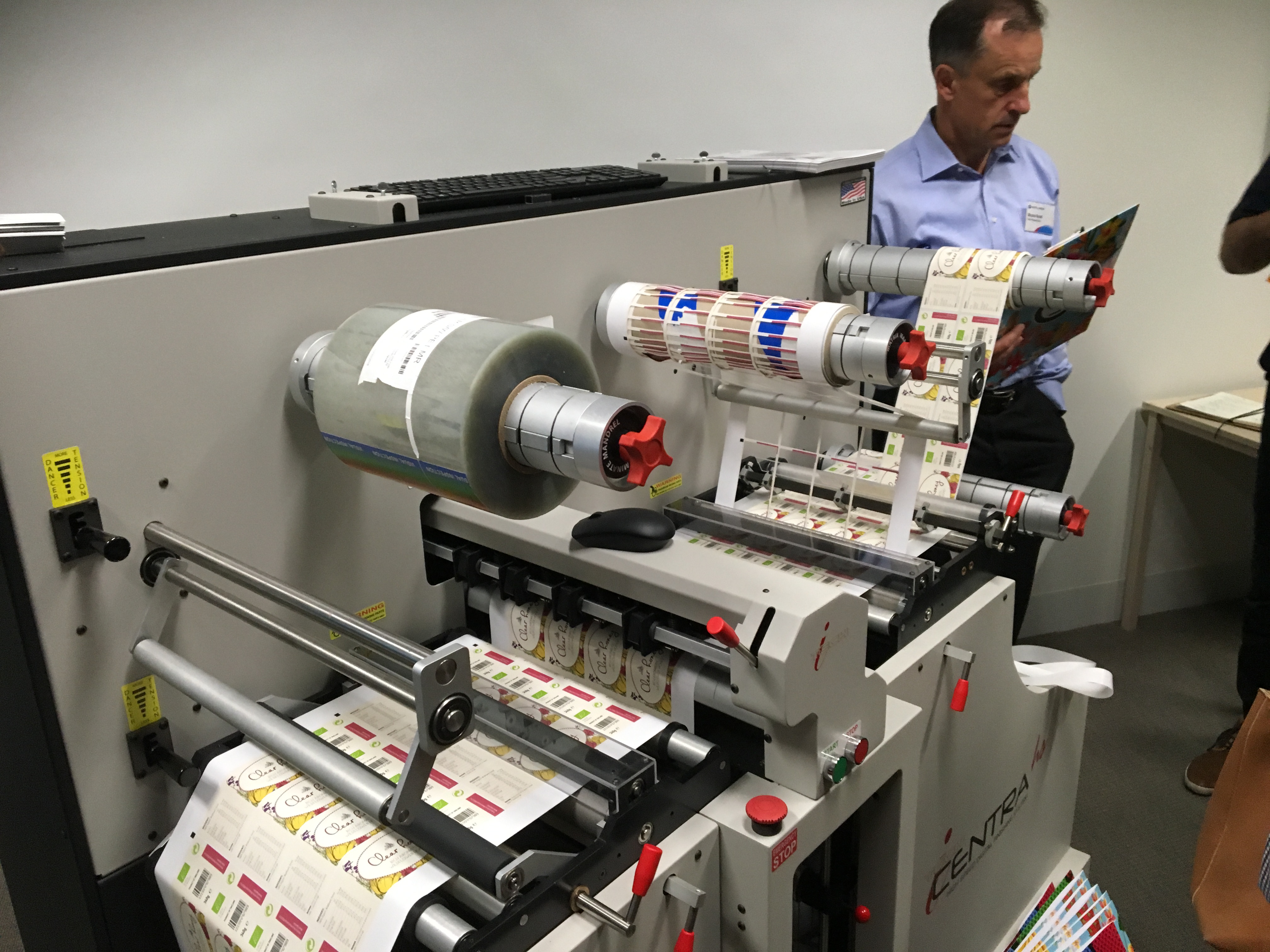 Completing the event was Paul Ross, Program Manager at the Holmesglen Tafe print centre. Paul commended Konica Minolta for the company's complete support of the centre, and the technology and training support they had provided.

Paul stated that the program was designed to cater for all aspects of the industry, not just digital print, and had seen an increase in the number of students currently enrolled.

"We've had an increase in the number of people wanting to do the course," said Paul. "We currently have 17 people in one group, with 25 more waiting to do the second course starting in May. Students come here for four days each week, with one day a week being spent in work experience with companies looking for apprentices or an employee and that go on to full time employment,"

There was certainly a lot to be learned from the presentations, and very interesting to see how the whole production process works seamlessly for greater efficiency, waste minimisation and profit maximisation.

For more information about the Konica Minolta AccurioLabel 190, please visit here.