VI Online Magazine 2014
Click on the magazine below to view the issue in an online format.
For VI Magazines from previous years, view either 2017 VI Online Magazine, 2016 VI Online Magazine, 2015 VI Online Magazine, 2014 VI Online Magazine, 2013 VI Online Magazine, 2012 VI Online Magazine, 2011 VI Online Magazine, 2010 VI Online Magazine, 2009 VI Online Magazineor 2008 VI Online Magazine..


---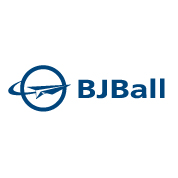 VI Issue #4 Sept / Oct 2014
Cover Stories
Set to Soar – Visual Impact Sydney 2014
Aqueous, Solvent, Latex or UV – Which System is Best for You?
Flying High – The Story of InFlight Graphics
Feature Stories
WorldSkills – Supporting the Pursuit for Excellence
Building Trade Show Displays
Taking it to the Streets
The Power of Positive Thinking
Get Blind! Digitally Printing Blinds
Wild Wraps
VI Issue #3 May / Jun 2014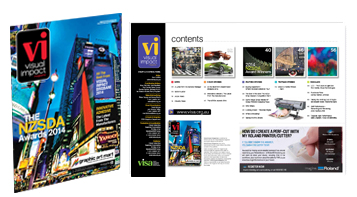 Cover Stories
All the Best from Visual Impact Brisbane 2014
Innovative Adhesive, The Latest From The Manufacturers
The NZSDA Awards 2014
Feature Stories
Buying Equipment – What's the Best Option for You?
The Best of the Best: The ASGA Wrap Masters Competition Part 1
Sumo Visual Group Installs HP Scitex FB10000 Industrial Press
Wild Wraps
Looking Ahead – Visionary Digital
What is Weeding?
Taking it to the Streets
VI Issue #2 Mar - Apr 2014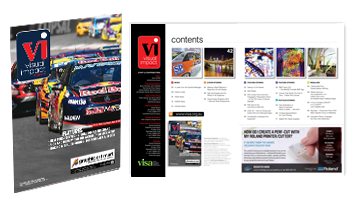 Cover Stories
Making a Real Difference – Response Art and Design
Sign and Display and the World of V8 Supercars
Visual Impact Brisbane 2014 – Discover New Perspectives
Feature Stories
Taking it to the Streets
Wild Wraps
DVE Unveils First-of-Its-Kind Holographic Presentation Room – Is This The Future of Internal Signage?